Interior inspo
28 September 2014
Kelly on moving into your first real home + a peek into hers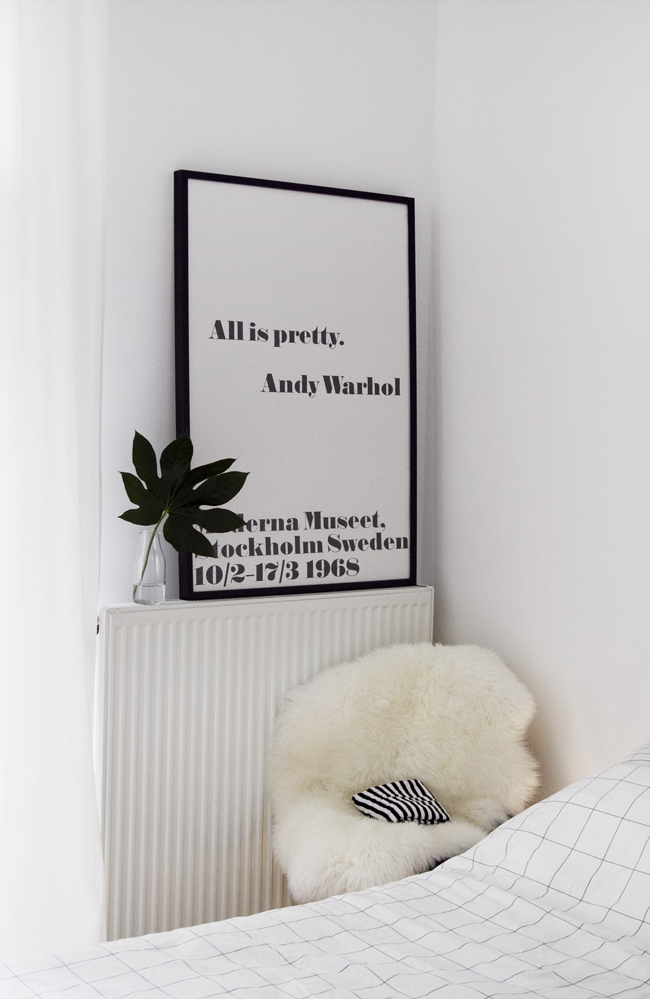 Two months ago I handed in the keys to my ten square meters Amsterdam room, after living there for half a year. It's believed I have some gypsy blood running through my veins: for the last five years I lived like a little nomad and moved around nine times (my mother kept counting when I lost track).
But last August, it was finally time to move into my first real apartment. We've been talking about my new condo at the CHAPTER FRIDAY office and I went all MTV Cribs about it. The exact reason why you're reading this article right now: I'd like to share some thoughts that came to mind when Moving Day occurred and of course, give you some nice home made interior inspo!
Thought #1
PLANNING IS CRUCIAL
So, when you want to live together with your significant other or even by yourself, it's necessary to do some planning before the big moving day. Planning is my second nature (it's my job to be a smooth operator) so I went totally overboard and made a day to day planning for the week of moving – combining a full time job with a complicated moving just requires some thorough planning. I opened a blank document in Word and wrote the following down for every single day of the week: 1. Who would be present and what time 2. The main tasks that needed to be done 3. What needed to be brought and bought.
Thought #2
TO MEASURE IS TO KNOW
In my experience, my measuring skills will be questioned at all times. You will find me lying on the floor with a tapeline in my hand, but only for the amusement of others. But it is vital to know if your couch is going to fit in, so check and double check or let someone else do the dirty work.
Thought #3
DON'T RUSH THINGS
When you move in, you will probably already have some furniture and maybe some cookware you can put to use. Obviously you want to invite your friends for evening-long dinners and movie nights right away, but without a decent couch or dining table you won't get very far. Don't rush into buying new furniture just because you need it now (Japanese style dinners on the floor are great too)! In the end, this will only cost you money. It took me (us) a long time before we found a perfect table and fitting chairs and for the time being, we just used two trestles and a wooden plank as a table. Worked perfectly.
Thought #4
KEEP YOUR STUFF ORGANIZED
For the first few weeks I couldn't find my external harddisk, envelopes, phone charger and sea salt spray (really important, I don't have to explain) until the point I became quite frustrated. So I bought storage boxes by Hay, magazine files and vintage containers and went to IKEA so often I could map out the whole store with my eyes closed. Tip: their Kvissle management box for wires is just awesome.
Thought #5
CREATE A WORK PLACE FOR YOURSELF
My home is quite small and I don't have an extra room to make an actual home office, so I use the kitchen table (by Danish label Muuto) as a desk. The trick is to keep it tidy (my clean desk policy at home actually works) and completely zen. Make sure there's enough daylight at your work place, so you'll stay energized during the day. I like the white walls and white table together because they tend to spread the natural light – and they're a great backdrop for a new Instagram photo as well!
Thought #6
DECORATE TILL YOU DROP
Now you've created the essential – a place where you feel at ease – it's time to get started on the fun part. I would advice to keep your apartment simple: neutral colored walls for an open and light look, so you can add color using pillows, rugs and other textiles. During the whole decorating process I got to know myself as a poster hoarder (I bought them at Society6, Misc, Voo Store and Etsy) and a monochrome lover. As you can tell from the pictures ;)
Do you have any moving or decorating tips you picked up from experience?
(Images and text by Kelly Nederlof – for more interior peeks, follow her on Instagram)